TREE OF LIFE: 270 years of Jewish Choral Music
Past Sessions
Thursday, June 15, 2017 • 21 Sivan 5777 -

7:00 PM - 10:00 PM

-

Union Temple
Sunday, June 11, 2017 • 17 Sivan 5777 -

4:00 PM - 7:00 PM

-

Ansche Chesed
Ninety voices bring to life the sounds of classical and contemporary Jewish Choral music in the beautiful sanctuary of Ansche Chesed. Handel, Mendelsohn, Schubert, and L. Lewandowski, as well as contemporary 21st Century compositions, based on Jewish texts and themes. With Shirei Chesed Community Chorus at Ansche Chesed, directed by Cantor Natasha J. Hirschhorn and Shir Chadash: The Brooklyn Jewish Community Chorus, directed by Cantor Rachel Brook. Purchase your tickets in advance here. $15 in advance/$20 at the door; children under twelve $5 in advance/$10 at the door.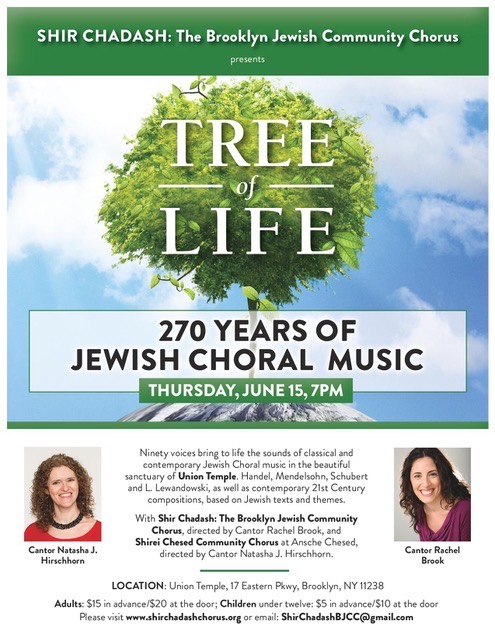 Click image for more information.
Share Print Save To My Calendar
Wed, November 22 2017 4 Kislev 5778
Wed, November 22 2017
4 Kislev 5778
Today's Calendar
---
Upcoming Programs & Events
---
Parshat Vayetzei
Candle Lighting
Erev Chanukah
View Calendar
High Holiday Service Information
Please visit our High Holy Day page for further service and ticket information.
Don't miss out! Join our mailing list.
Select PSJC News to get our weekly newsletter and other news from PSJC.
Community Yartzeits
Wednesday 04 Kislev
Judith Moskowitz for father, Warren Moskowitz
June Zeitlin for aunt, Lillian Bregier
Samuel Hornick for father, Joseph Hornick
Thursday 05 Kislev
M. Allan Ettlinger for brother, Lewis Ettlinger
Friday 06 Kislev
Marilyn Kardeman for grandfather, Elias Katz